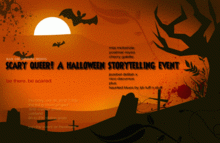 Date: Thursday, October 18, 2012
Time: 7:30pm until 9:00pm
Venue: the Living Room Project – Oakland
Address: 1919 Market Street, Oakland, California 94607
Cover: $7 to $12 sliding scale (all door proceeds go to the artists). Advance tickets available now
Drinks for a small donation (all drinks proceeds go to the amazing Living Room Project).
Pssst…wanna hear something scary?
Join us for "Scary Queer! A Halloween Storytelling Event" and listen to some of your fave Bay Area writers reading original queer scary stories.
Queer scary stories date back to the dawn of language, when fierce cavepeople sat around the fire in woolly mammoth furs and glitter lipstick telling horrid tales of vampire dandies and ghost butches and scaring the bejeezus out of each other. Fun!
Half a million years later (or something like that–I'm not a friggin' anthropologist, okay?) we're doing it speakeasy style: low lighting, bathtub gin (ok, maybe bathtub seabreezes), the devil's music, and plenty of debauchery.
You don't want to miss this.
Featuring:
Mia McKenzie
Yosimar Reyes
Cherry Galette
Jezebel Delilah X
Nico Dacumos
and the haunting blues sounds of KB TuffNStuff!
And, of course, hella smart, sexy, literary queers.
Bring a blanky, get cozy, and get scared (and possibly made-out with)!
Come fragrance free, aight? Costumes encouraged!
NOTAFLOF. If you can't pay, you can volunteer. Email blackgirldangerous@gmail.com for deets.
Limited seating! Don't miss out! Advance tickets available now: http://www.brownpapertickets.com/event/281895
MIA MCKENZIE is a sexy nerd type who enjoys using the expressions "say word" and "girl, you aint never lied!" Her memories of childhood Halloweens include never having store-bought costumes and going trick-or-treating in bedsheets and her mother's old hats. Despite this trauma, she loves Halloween! Okay, that's an exaggeration. She *likes* Halloween. But she is positively terrified of demonic clowns.
YOSIMAR REYES is a poet, performer that grew up on stories about buried treasures in Mexico, La Llorona and El Cucuy. He is scared of the dark and does not fuck with the spirit world.
CHERRY GALETTE, although best known as the Dancing Assassin, also leads a double life as a writer who has received a few accolades and awards for her work. (Shhhh!)
She loves a good ghost tale, vampire fantasy, and particularly loves being bitten, although her largest fear remains being eaten (by a non-human animal).
JEZEBEL DELILAH X enjoys the inappropriate: calling her mother to brag about all the hot sex she's having, scaring her lovers after said hot sex by pretending to be possessed and talk in demonic voices, occasionally screaming Mitt Romney's name during orgasms for the hell of it, and watching RomCom's featuring Jennifer Lopez. It's ironic that she's participating in this reading because she's deathly afraid of horror films and never watches them – unless there's a really hot fox of a queer who'll hold her close, cover her eyes, and lick her neck when ever the scary parts come on. She is also a performance artist and college instructor, but thats a secret because the school teachers are always the first to go when it comes to serial killers and zombies. Vampires, on the other hand, with those long thick fangs and smoldering, hypnotic stares – well they are more than welcome.
NICO DACUMOS is a producer, performer, poet, writer, and high school teacher who hopes to bring together all the aforementioned talents to write the Great American Queer Young Adult Vampire novel. He is also deathly afraid of snakes, sharks, horror movies featuring tiny evil children, and dolls of all sizes.
KB aka Kali Boyce is a Two-Spirit musician whose adventures have brought hir from teenage punk band appearances at CBGBs in NY, to B-grade horror movies in LA, and on to solo Drag King blues performance as TuffNStuff in San Francisco. TuffNStuff composes and performs music that pays homage to African-American and Indigenous legacies of resistance through art and is the co-director of Queer Rebel Productions [see Queer Rebels dot com]. "Tuffy" has just completed an Ep with 5 haunting tunes: Trans of Venus! Look for it on CD Baby or on King TuffNStuff dot com.
This entry was posted on Saturday, September 22nd, 2012 at 6:51 pm
You can follow any responses to this entry through the RSS 2.0 feed.
Posted in: Past Performances